Nos produits phares.
SILENT KNIGHT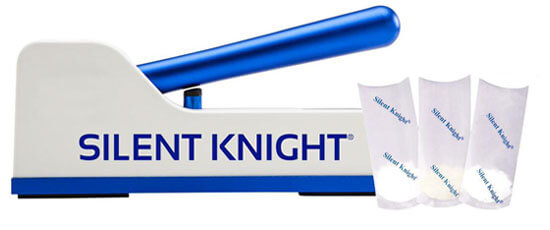 Drug coating are harder and tougher, and terefoe a higher pressure is needed to crush them...
Discover the tablet shredder SILENT KNIGHT®
Easy to use :

The drug is put into a polyethylene bag. The Pills are ground into fine powder at the very pressure on the "SILENT KNIGHT®".

Hygiene and safety :

Any risk of contamination and dosage error is eliminated. The "SILENT KNIGHT®" does not requier any cleaning or sterilization.

Ergonomics :

The handle offers a good grip and the crushing mechanism is effortlessly activated, wich avoids pain in the shoulders and upper limbs.

Economical :

As the drug is crushed within the bag, there is no loss of product.

Silent and effective :

Due to its completely silent mechanism, "SILENT KNIGHT®" can be used at your patient's bedsides. No battery, no power source is needed.

Lifetime guarantee :

This model, made from aluminium alloy, is 27cm long, 8cm wide, and 12cm height.